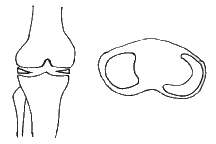 What is it?
Every knee has a medial and lateral meniscus which are C-shaped pieces of fibrocartilage that absorb stress and act as cushions between the bones at the knee. At birth, the meniscus is not C-shaped, but discoid (round like a discus). With growth and walking, the discoid meniscus evolves into its normal C-shape. In some children, the lateral meniscus continues to stay discoid with growth.
What are the symptoms?
The most common presentation is a 6 to 8 year old child with a "snapping" or a "clonking" in his knee as he walks. It is usually pain-free, other than the embarrassment of the noise. In some instances, as the child grows older, it may cause recurrent locking and pain in the knee.
What does your doctor do about it?
The doctor would do an X-ray to rule out any bony pathology. The X-ray appearance is usually normal in discoid meniscus. To confirm the diagnosis, an MRI is usually necessary to actually visualize the discoid meniscus. In most cases, if there is no significant locking or pain, treatment is conservative, consisting of stretching and strengthening exercises for the Quadriceps and Hamstring muscles. In cases where there is significant disability, surgical excision may be needed. Where the discoid meniscus is severely damaged, total excision of the meniscus may be necessary. In most cases where the meniscus is still generally intact, a partial excision to preserve the cushioning function may be sufficient.